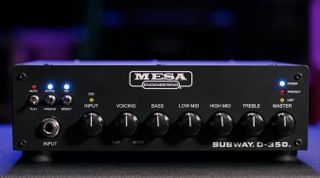 (Image credit: Mesa/Boogie)

Mesa/Boogie has unveiled the Subway D-350, a compact but powerful unit that the Gibson-owned company says is the lightest, smallest and most affordable bass amp it's ever produced.
Given that the Subway D-350 weighs just over 3 pounds, and measures at just 3″ high and 9″ wide, we have no reason to quarrel with any of those claims (more about the price later).
Small as it is though, the amp packs quite a punch, with 350 watts of Class D power. It's built with a solid-state preamp coupled with a lightweight Class D power amp and switch-mode power supply.
Mesa/Boogie also fit plenty of controls onto that tiny frame, gracing the Subway D-350 with a four-band (Bass, Low Mid, High Mid, Treble) Baxandall EQ, separate Gain and Master Volume controls, Active/Passive and Input Mute switches, and a Bright switch, for adding some top-end sparkle.
The amp is also outfitted with a built-in fixed high-pass filter, and a Variable Voicing control, which adjusts the amp's response from a flatter curve to a more vintage-voiced curve.
'Round the back, meanwhile, you'll find Aux Input and headphone output jacks, a USB power port, two speakON jacks – for connecting to one or two speaker cabinets – and a balanced XLR direct output with pre/post EQ source, ground lift and Mic/Line level switches.
The Mesa/Boogie Subway D-350 bass amp is available now – with a handy gig bag included – for $699. 
For more info, visit Mesa/Boogie (opens in new tab).
Thank you for reading 5 articles this month*
Join now for unlimited access
US pricing $3.99 per month or $39.00 per year
UK pricing £2.99 per month or £29.00 per year 
Europe pricing €3.49 per month or €34.00 per year
*Read 5 free articles per month without a subscription
Join now for unlimited access
Prices from £2.99/$3.99/€3.49
Jackson is an Associate Editor at GuitarWorld.com. He's been writing and editing stories about new gear, technique and guitar-driven music both old and new since 2014, and has also written extensively on the same topics for Guitar Player (opens in new tab). Elsewhere, his album reviews and essays have appeared in Louder (opens in new tab) and Unrecorded (opens in new tab). Though open to music of all kinds, his greatest love has always been indie, and everything that falls under its massive umbrella. To that end, you can find him on Twitter crowing about whatever great new guitar band you need to drop everything to hear right now.