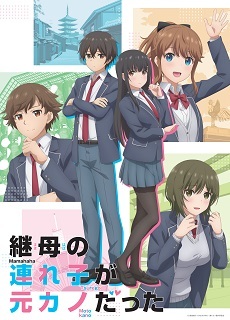 The official Twitter of the Mamahaha no Tsurego ga Motokano datta (My Stepsister is My Ex-Girlfriend) television anime announced two supporting cast on Thursday. The anime series is scheduled to premiere on July 6 at 9:00 p.m. on AT-X, followed by Tokyo MX, BS NTV, MBS, and BS Fuji.


Cast

Mizuto's Dad: Kazuyuki Okitsu (Fruits Basket)

Yume's Mom: Ai Kayano (Tsuujou Kougeki ga Zentai Kougeki de Ni-kai Kougeki no Okaasan wa Suki Desu ka?)


Shinsuke Yanagi (Jaku-Chara Tomozaki-kun) is directing the anime at Project No.9. Deko Akao (Hitomi Mieno) (Komi-san wa, Comyushou desu.) is handling the series composition and script. Katsuyuki Satou (Yubisaki kara Honki no Netsujou) is designing the characters.


The anime adapts Kyousuke Kamishiro's romantic comedy light novel, which he began posting on the Kakuyomu website in August 2017. Kadokawa began printing the series through its Sneaker Bunko imprint the following December, featuring illustrations by TakayaKi (Arifureta Shokugyou de Sekai Saikyou). The eighth volume shipped on February 1.


Source: animate Times