By boosting into a Runaway Boulder with a Baller in Chapter 3 Season 3, Fortnite players can quickly earn 15,000 XP.
Published
11 hours ago
on
June 16, 2022
Fortnite Chapter 3 Season 3 Week 2 challenges are here. One of the challenges requires players to boost into a Runaway Boulder with a Baller, and here's how to do it.
The Fortnite community has been complaining about the gruesome XP grind in Chapter 3 Season 3 for several days now. Amidst several nerfs and buffs to the Accolade XP system by Epic Games, Weekly and Daily quests are the only reliable source of XP for players.
Here's a guide to completing a Weekly quest that grants 15,000 XP.
The Baller and Runaway Boulder locations in Fortnite Chapter 3 Season 3
Runaway Boulders arrived in Fortnite Chapter 3 Season 3 as a reference to Indiana Jones' iconic scene in Raiders of the Lost Ark. You can find them on a ton of cliffs around the island and destroy their rock base to roll them down.
However, considering that the challenge requires players to boost into a Runaway Boulder with a Baller, it is better if they find one near Rave Cave only.
The spawn locations of the seven Ballers in Rave Cave have been marked in the images below:
Players will find three Ballers inside Cuddle Team Leader's giant head at Rave Cave. Two Ballers can be found in the cave under the Cuddle Team Leader's head and two more on the eastern platform.
After finding a Baller, players can use it to reach the Runaway Boulder marked in the image:
Ballers in Fortnite Chapter 3 Season 3 can grant infinite boost with a glitch
The final step is to climb the cliff marked in the image above and hit the Runaway Boulder with a Baller while holding the boost button. Ideally, this should make the rock roll down the cliff, and players will be able to get 15,000 XP instantly.
Interestingly, loopers can get an infinite boost for their Baller with a simple glitch. Right when the vehicle's energy finishes and the game displays the 'energy depleted' bar, you have to hold the boost button. Thereafter, the Baller will keep on moving even with an empty energy bar.
Apparently, Runaway Boulders do not have definite spawn locations. Hence, if players do not find one near Rave Cave, they can use the infinite boost glitch and travel around the island to complete the XP challenge.
Fortnite added a secret door near Reality Falls in Chapter 3 Season 3. It had 5 trillion HP, and loopers have finally opened it.
Published
13 hours ago
on
June 16, 2022
Ever since the release of Fortnite Chapter 3 Season 3, loopers have been trying their best to open DaDoor near Reality Falls. After weeks of valiant efforts, we finally know what's inside.
Fortnite Chapter 3 Season 3 received an overwhelmingly positive response from loopers owing to the wide range of map changes. Epic Games not only added new biomes and POIs but also concealed Easter Eggs like DaDoor.
The Lonely Door, a.k.a. DaDoor, had 5 trillion HP, and players around the world had to open it by using their pickaxes.
Fortnite community sets free the Ghost Henchmen and Last Reality Trespasser behind DaDoor
As it turns out, a Ghost henchman, a Shadow henchman, and the Last Reality Trespasser were stuck behind DaDoor all this time. However, they do not seem to be tensed about it.
If you visit DaDoor at the moment, the Ghost henchman will be playing the Ukulele on a rocking chair while the Shadow henchman will be 'Vibin' on a beach chair. In contrast, the Last Reality Trespasser will be a little worried about the future as he asks:
"Is there an establishment nearby that repairs chitinous plates?"
From the looks of it, the three cavemen will begin a new adventure in the coming weeks. As of now, they're just celebrating their freedom.
How to open DaDoor in Fortnite Chapter 3 Season 3
Many players in the Fortnite community used Cow Catcher glitches to open DaDoor without depleting its 5 trillion HP. However, the door is now open for everyone and there is no need to rely on glitches.
DaDoor's location has been marked in the image below:
Loopers no longer need to use their pickaxe to break the rocks at the entrance. It is worth noting that the NPCs are hostile, and you should avoid attacking them. They can collectively shoot and eliminate players within seconds and cannot be defeated like bosses.
Following the success of Team 7's arrival in Fortnite, Epic Games has announced another Naruto crossover to bring in the likes of Itachi.
Published
15 hours ago
on
June 16, 2022
The Naruto crossover that took place in Fortnite Chapter 2 Season 8 is about to get bigger and better in Chapter 3 Season 3. Leaks have suggested that four new characters including Itachi and Gaara will arrive in the Item Shop.
Fortnite is probably the only game in the world in which players can equip skins like Naruto and play with high-tech weapons to defeat bosses from Star Wars. Even though many fans complain about Epic Games' over-emphasis on crossovers, they've helped in popularizing the game in front of a massive new audience.
Fortnite has now announced another Naruto crossover, and here's everything we know about it.
Fortnite x Naruto Rivals: Release date, new skins, and more revealed
As per Fortnite's official announcement, the upcoming Naruto crossover will take place on June 23. While this is the only thing mentioned in the announcement, leakers have come up with a ton of additional information.
Apparently, Hinata, Gaara, Itachi Uchiha, and Orochimaru skins will be released in the Item Shop this time. This is because the crossover has been teased in a Japanese magazine and fans have spotted these characters on the cover.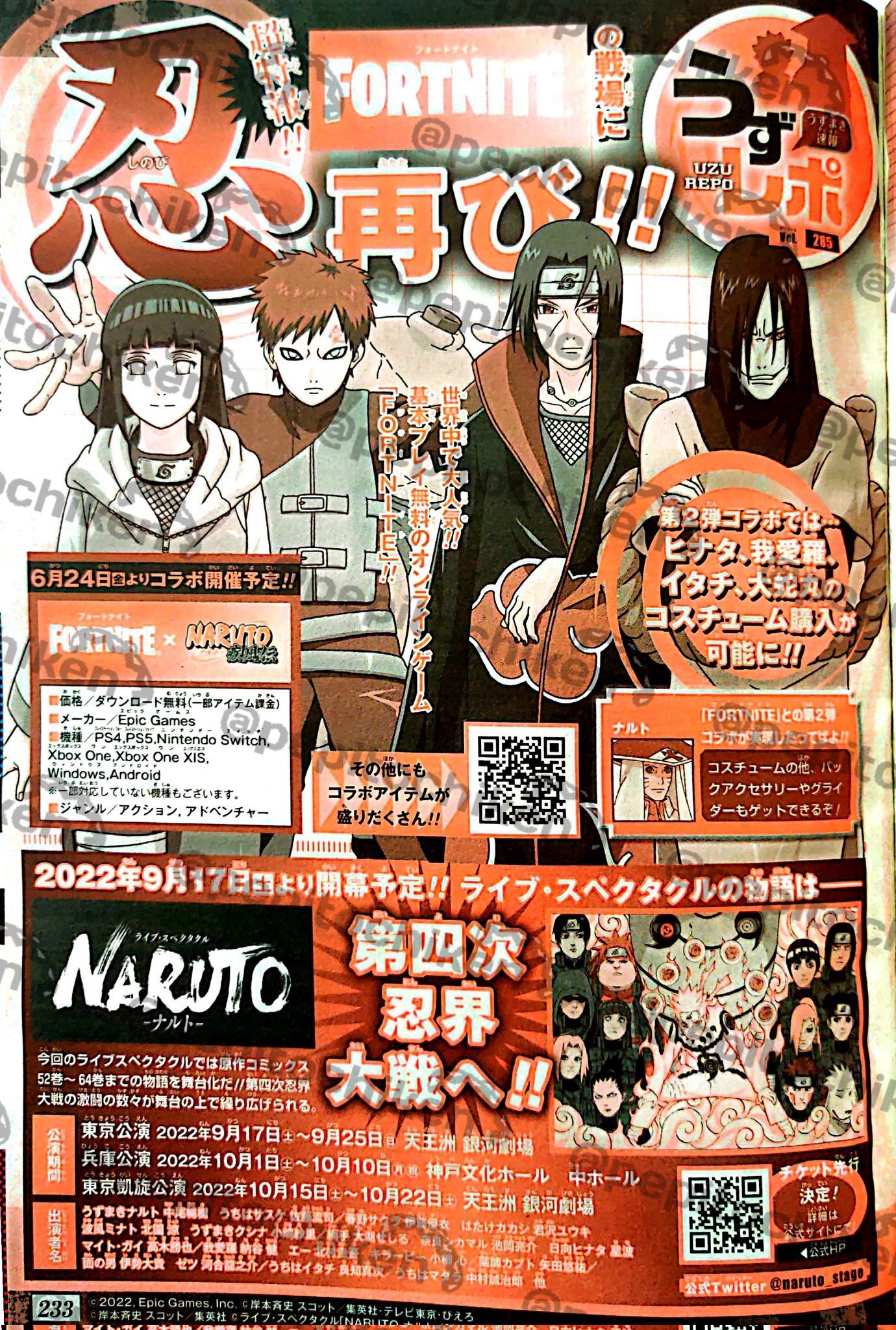 It is worth noting that the impending Naruto crossover has a 'Rivals' theme. Accordingly, players are assuming that there will be an Akatsuki bundle or a Team 8 bundle.
While Hinata is a member of Team 8, Itachi and Orochimaru are members of the Akatsuki clan. Gaara, on the other end of the spectrum, is Sunagakure's Fifth Kazekage. As of now, it is hard to see how these cosmetics will blend in with the Rivals theme.
Fortnite has been working on a new Trials website codenamed Kawaii 2
Back in April 2022, leaker iFireMonkey revealed that Fortnite is working on another Trials website codenamed Kawaii 2. Interestingly, Kawaii was the codename for the original Naruto Trials website.
Now that Fortnite x Naruto Rivals is confirmed, it is safe to assume that we'll see a new Nindo challenges website. Loopers will be able to take part in a new set of Creative challenges for free cosmetic rewards and XP.
While Naruto fans in the Fortnite community haven't been happier, fans of other prominent series like Attack on Titan and Dragon Ball Z feel differently. The latter believe that Epic Games should get over Naruto now, and focus on other anime with equally enormous fan bases.
All in all, the Fortnite x Naruto: Rivals! crossover in Chapter 3 Season 3 will comprise Item Shop skins and community-driven challenges. More details on the same should arrive in the near future.