The Naruto crossover that took place in Fortnite Chapter 2 Season 8 is about to get bigger and better in Chapter 3 Season 3. Leaks have suggested that four new characters including Itachi and Gaara will arrive in the Item Shop.
Fortnite is probably the only game in the world in which players can equip skins like Naruto and play with high-tech weapons to defeat bosses from Star Wars. Even though many fans complain about Epic Games' over-emphasis on crossovers, they've helped in popularizing the game in front of a massive new audience.
Fortnite has now announced another Naruto crossover, and here's everything we know about it.
Fortnite x Naruto Rivals: Release date, new skins, and more revealed
As per Fortnite's official announcement, the upcoming Naruto crossover will take place on June 23. While this is the only thing mentioned in the announcement, leakers have come up with a ton of additional information.
Apparently, Hinata, Gaara, Itachi Uchiha, and Orochimaru skins will be released in the Item Shop this time. This is because the crossover has been teased in a Japanese magazine and fans have spotted these characters on the cover.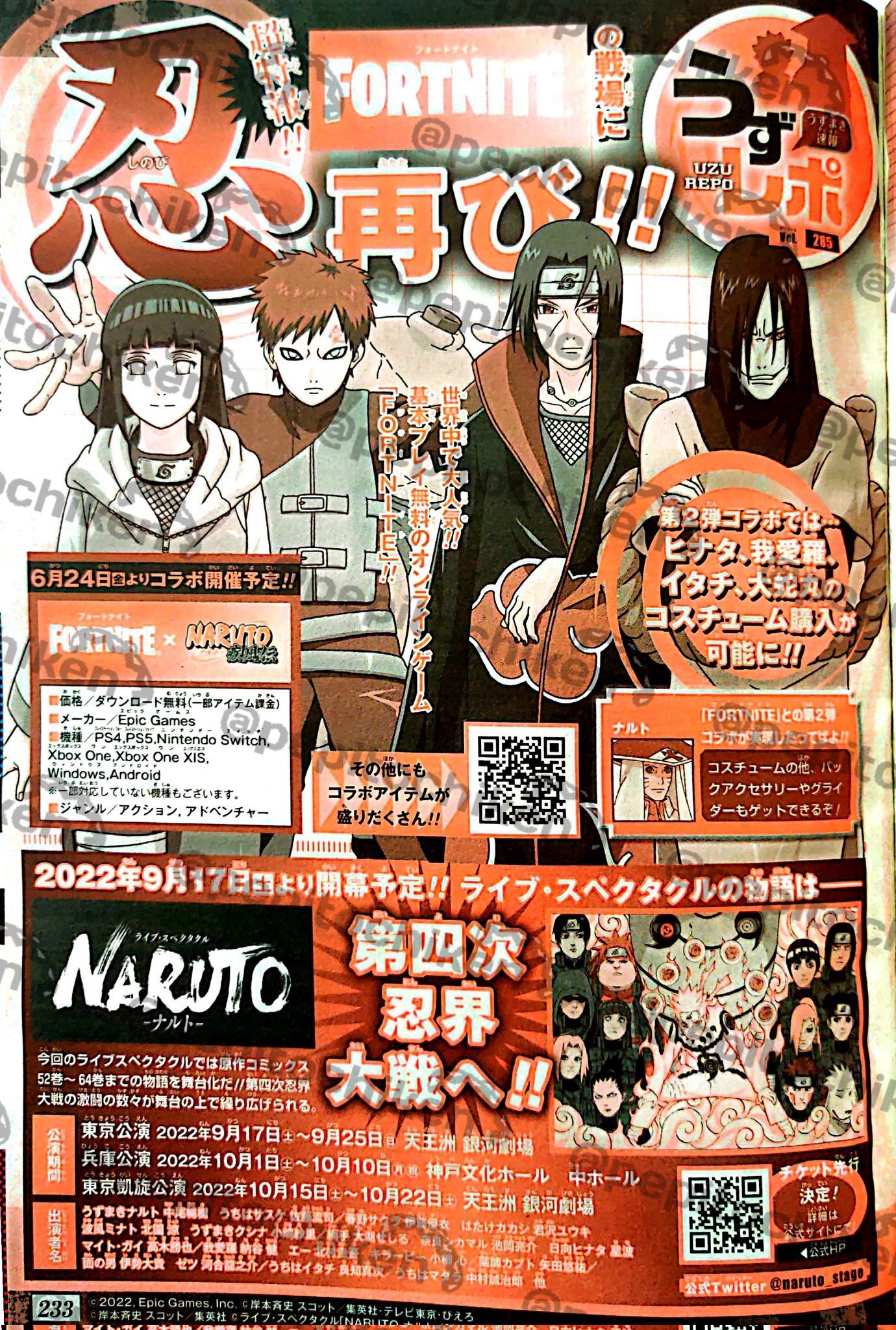 It is worth noting that the impending Naruto crossover has a 'Rivals' theme. Accordingly, players are assuming that there will be an Akatsuki bundle or a Team 8 bundle.
While Hinata is a member of Team 8, Itachi and Orochimaru are members of the Akatsuki clan. Gaara, on the other end of the spectrum, is Sunagakure's Fifth Kazekage. As of now, it is hard to see how these cosmetics will blend in with the Rivals theme.
Fortnite has been working on a new Trials website codenamed Kawaii 2
Back in April 2022, leaker iFireMonkey revealed that Fortnite is working on another Trials website codenamed Kawaii 2. Interestingly, Kawaii was the codename for the original Naruto Trials website.
Now that Fortnite x Naruto Rivals is confirmed, it is safe to assume that we'll see a new Nindo challenges website. Loopers will be able to take part in a new set of Creative challenges for free cosmetic rewards and XP.
While Naruto fans in the Fortnite community haven't been happier, fans of other prominent series like Attack on Titan and Dragon Ball Z feel differently. The latter believe that Epic Games should get over Naruto now, and focus on other anime with equally enormous fan bases.
All in all, the Fortnite x Naruto: Rivals! crossover in Chapter 3 Season 3 will comprise Item Shop skins and community-driven challenges. More details on the same should arrive in the near future.