The Battle Bus in Fortnite has carried millions of loopers over the years. A genius has calculated its speed and shocked the community.
The Battle Bus in Fortnite carries loopers from the spawn island and drops them on the main island for battle. For unknown reasons, one player has calculated the bus' exact speed instead of thanking the bus driver.
Fortnite is clearly not the most realistic game out there. In fact, it allows players to dress up like robots, ninjas, birds, or superheroes, use weapons like a Shockwave Grenade, and then take on enemies from other universes like Star Wars and DC.
Even though it is full of the most random elements, the concepts of physics and mathematics can be applied to Fortnite. Accordingly, a player calculated the speed of the Battle Bus, and to say the least, the community is proud of this genius.
How to calculate the Battle Bus' speed in Fortnite?
Reddit user u/somedudebeingcool used trigonometry to first calculate the distance which the Battle Bus travels in a drop window. They marked a location in the middle of the map and gathered the following stats:
Duration of the bus' drop window (33 seconds)
Distance to the marked location at the beginning of the drop window
Distance to the marked location at the end of the drop window
Shortest distance to the marked location in the entire drop window
u/somedudebeingcool claims that their method is far more reliable than the previous ones that have already surfaced on the internet. Apparently, some players drove vehicles across the island and compared their speed to the Battle Bus.
In 2018, another mathematics enthusiast in the Fortnite community drove the Golf Cart at a speed of 15 mph over a Battle Bus route. They then compared the time taken by the cart to that of the bus and concluded that the latter travels at a speed of over 400 miles/hour.
In contrast, u/somedudebeingcool claims his results are based on facts. They divided the distance traveled by the bus, by the duration of the drop window, and concluded that it travels at a speed of 75 m/s (meters/second) which is close to 270 km/h or 167 m/h.
The speed of Battle Bus in Fortnite is surprisingly realistic
Considering that the cruising speed of airplanes is close to 800km/h, it makes sense for a bus to cruise at 270 km/h while carrying 100 players. This number is believable, and members of the r/FortNiteBR subreddit appreciated the effort.
While some called u/somedudebeingcool the teacher of Einstein, others thanked them for clearing up the confusion. As it turns out, several players had thought about the speed of the Battle Bus but never knew how to calculate it.
All in all, loopers never fail to surprise with their creativity and out-of-the-box ideas. This explains why Fortnite's Creative mode is such a massive success and exciting new maps/games are released in it frequently.
Tfue returned to Fortnite in Chapter 3, and hasn't looked back ever since. He now holds the record for most eliminations in a Squads game.
Published
8 seconds ago
on
June 17, 2022
Tfue's return to Fortnite has been no less than a highlight reel so far. He's won several Zero Build tournaments and made the record for the most kills in a Squads game recently.
Tfue played a major role in making Fortnite the biggest Battle Royale title ever. Back in the day, he was the face of the game and fans could not believe it when he quit in Chapter 2.
However, Tfue is finally back and he's causing mayhem in the newly introduced Zero Build mode.
Tfue and Zemie drop 68 eliminations in a Fortnite Squads game
Tfue and fellow Twitch streamer Zemie have participated in several tournaments together. Fans are well aware of their skills and synergy which has helped in yielding great results consistently.
In a recent live stream, Zemie and Tfue tried to drop 50 bombs in every game. This basically means that they were trying to get over 50 kills collectively. A Squads lobby is definitely better to attempt such challenges because it is easier to find groups of players.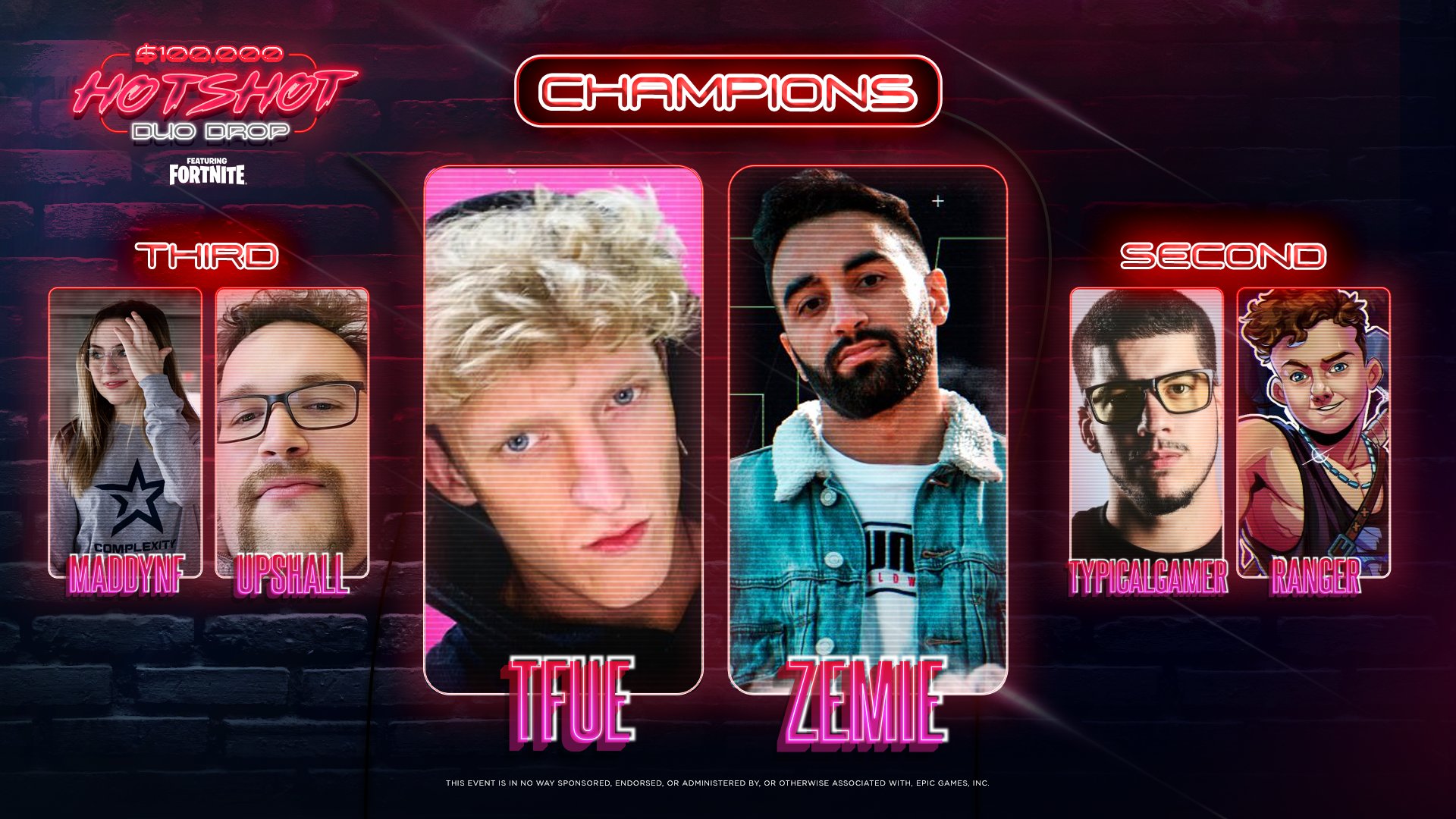 Little did the streamers know that they would end up creating a record for the most kills in a Squads game. The fact that they accomplished this feat as a duo is even more impressive. Tfue racked up 38 kills while Zemie had 30 eliminations under his name.
A total of 68 elimination in a single game is as unreal as it sounds. There is no denying the fact that Tfue and Zemie are two of the most skilled players out there, but eliminating 70% of the players in a lobby also requires a ton of luck.
Fortnite community reacts to Tfue and Zemie's record
Interestingly, Tfue's latest Fortnite record has received a mixed response from loopers around the world. While some creators have praised the duo, others believe that they created the record in a bot lobby.
A bot lobby includes a ton of AI. It's easier to get kills in a bot lobby because the AI can randomly spawn close to the player.
On the other hand, several fans also pointed out that famous streamers get a ton of free/easy kills because of stream snipers.
Amidst the contrasting opinions, Tfue and Zemie proudly hold the record for most kills in a Fortnite Squads game. It is safe to assume that no one will be able to break this record for a long time, let alone in Chapter 3 Season 3.
Fortnite players have to use ranged weapons in Season 3 and eliminate opponents. This will complete a weekly challenge that grants 15,000 XP.
Published
2 hours ago
on
June 17, 2022
Fortnite Chapter 3 Season 3 Week 2 challenges have arrived. One of the quests requires players to eliminate two opponents with ranged weapons – here's how to do it.
Epic Games' Battle Royale title has a wide range of weapons and each serves a unique purpose. While some like the Combat SMG are lethal in close-range combat, others like the Heavy Sniper Rifle offer a commendable range.
Here's a list of 'ranged' weapons in Fortnite Chapter 3 Season 3 that players can use to complete a weekly challenge.
What are ranged weapons in Fortnite Chapter 3 Season 3?
Players might have assumed that only sniper rifles and assault rifles are ranged weapons. However, literally, any weapon in the loot pool comes under this category. This includes pistols, shotguns, SMGs, and obviously, ARs and snipers.
The loot pool in Fortnite Chapter 3 Season 3 is quite different from Chapter 3 Season 2. The likes of MK Seven, Drum Shotgun, and the LMG were put in the vault and new weapons like the DMR and the Two-Shot shotgun took their place.
To complete the weekly challenge, players can rely on these weapons since they're the most efficient:
DMR for long-range
Hammer Assault Rifle for mid-range
Combat SMG for close range
Striker Pump Shotgun for close range
How to get weapons of Epic rarity or above in Fortnite Chapter 3 Season 3
Luckily, there are several ways to get brilliant loot in Chapter 3 Season 3. With the Reality Seeds, you can plant a Reality Sapling. Picking up weeds upgrades the quality of loot of the Reality Sapling, and after a day or two, players can get Mythic loot right at the beginning of the game.
Another way to get weapons of Epic rarity or above is the Upgrade bench. They are usually present in gas stations which are quite common in major locations like Coney Crossroads and Chonker's Speedway.
The final tip to complete this weekly challenge is to hop in Team Rumble instead of standard BR modes (Solo, Duos, Squads, and Trios). Amid the fast-paced action, the chances of getting two eliminations will be much higher.
The Fortnite island in Chapter 3 has several Geysers that loopers can use for quick rotations and 15,000 XP, thanks to a weekly challenge.
Published
1 day ago
on
June 16, 2022
Fortnite players have to launch into the air with the help of Geysers in Chapter 3 Season 3 in order to complete a weekly challenge that grants 15,000 XP.
Geysers have been an integral part of the Fortnite meta as they help players in launching into the air. One can use this boost to get away from enemies, escape the storm, or simply rotate to a new location.
A weekly challenge in Fortnite Chapter 3 Season 3 Week 2 requires players to use three Geysers, and here's a quick guide to completing it.
Geyser locations in Fortnite Chapter 3 Season 3
It is worth noting that Geysers in Fortnite Chapter 3 Season 3 are primarily located in the newly released biome that is full of giant mushrooms. POIs like Greasy Grove and Reality Falls are a part of this region.
Instead of roaming around in search of Geysers, you can simply head to the Peril Pass landmark marked in the image below. It has seven Geysers situated right next to each other.
Two more Geysers are present near the massive Reality Tree in Reality Falls:
You only need to launch yourself into the air with Geysers three times and nine locations have been specified in the images above.
How to use a Geyser in Fortnite Chapter 3 Season 3
Using a Geyser in Fortnite is as easy as it gets. You have to stand on it for a few seconds and the water pressure will automatically launch the character into the air. This is similar to Klombo's blowholes that were present around the island in Chapter 3 Season 2.
All in all, Fortnite players can get 15,000 XP by completing this simple challenge. By completing all the weekly challenges, they'll be able to progress three levels in the Battle Pass. It ain't much but it's honest work!