Fortnite confirms the design of map locations after inspecting a ton of concepts, and here are some brilliant ones that didn't make the cut.
Published
15 hours ago
on
Fortnite could have been an entirely different game if Epic Games had approved some awe-inspiring concepts by Gervasio Canda for POIs like Sanctuary, Zero Point desert, Primal Village, and Coliseum, among others.
Artstation is a platform that lets users view countless artworks by some of the most talented artists in the world. Fortnite concept artist Gervasio Canda, who is a senior concept artist at Epic Games, is also a part of the Artstation community.
Over the years, Canda has submitted several brilliant concepts on the platform, and Fortnite players have been admiring them all.
Fortnite players feel robbed after witnessing the unreleased concepts for prominent locations
Fortnite is known for its unique cartoonish design. The island has a vibrant color theme, and there are several goofy elements that help the game stand out.
Players around the world haven't really complained about the existing Chapter 3 map. In fact, the majority of the community considers the Artemis map to be much better than Apollo (Chapter 2 map).
However, players are also feeling a little disappointed that some of Gervasio Canda's concepts didn't make the final cut. For example, Sanctuary wasn't just a forest with scattered buildings. Instead, the Foundation's statue had a high-tech research lab inside it and a massive rusty ship rested on the shore.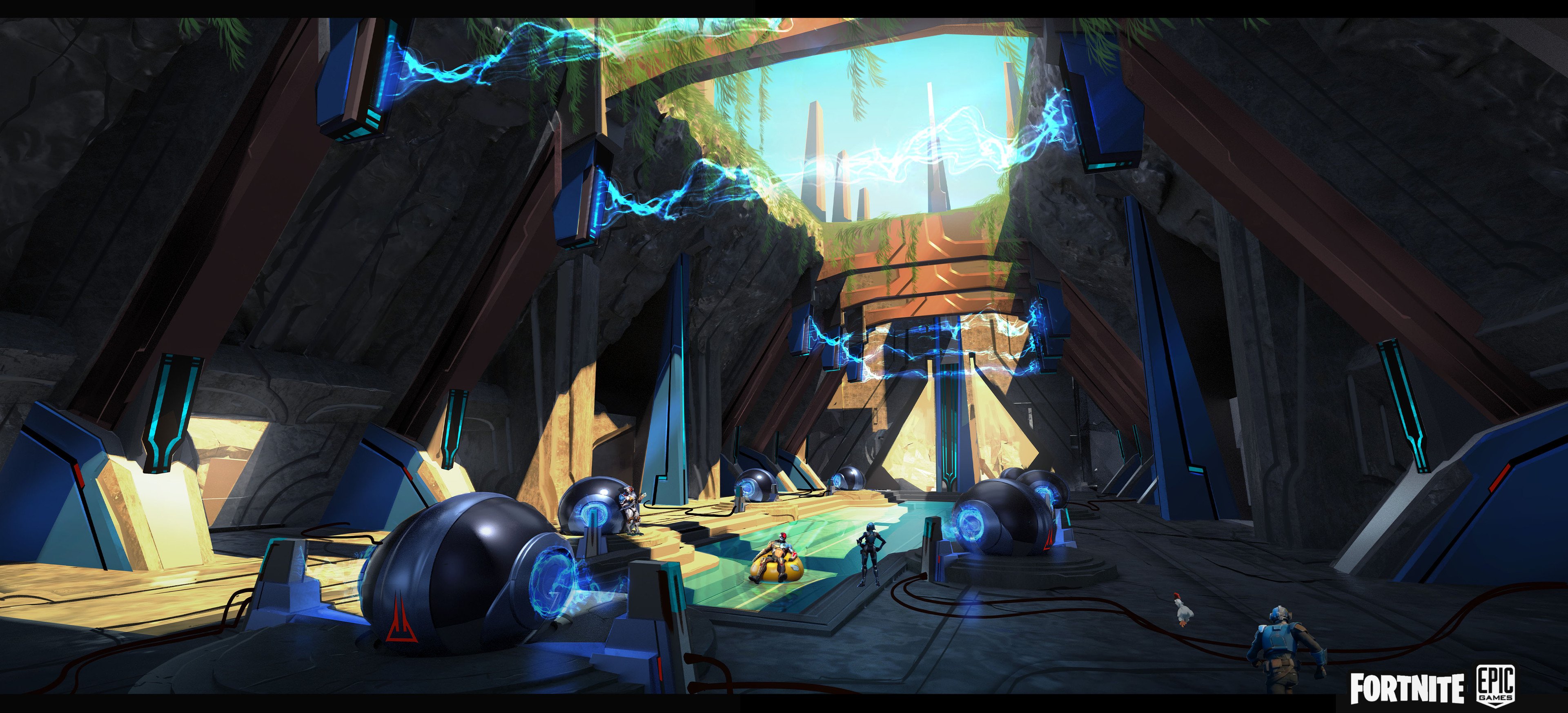 We currently have an empty beach near Sanctuary but in the concepts, there's a well-planned village with several shacks near the shore.

The concepts have not only revealed the Chapter 3 POIs but also major Chapter 2 locations like the Primal Village from Season 6, the Zero Point desert, and Coliseum from Season 5.
The concepts are full of details and loopers are perplexed over the fact that Epic Games rejected them. They believe that the Zero Point desert in Chapter 2 Season 5 was rather bland, and Sanctuary and The Joneses in Chapter 3 can certainly have more details.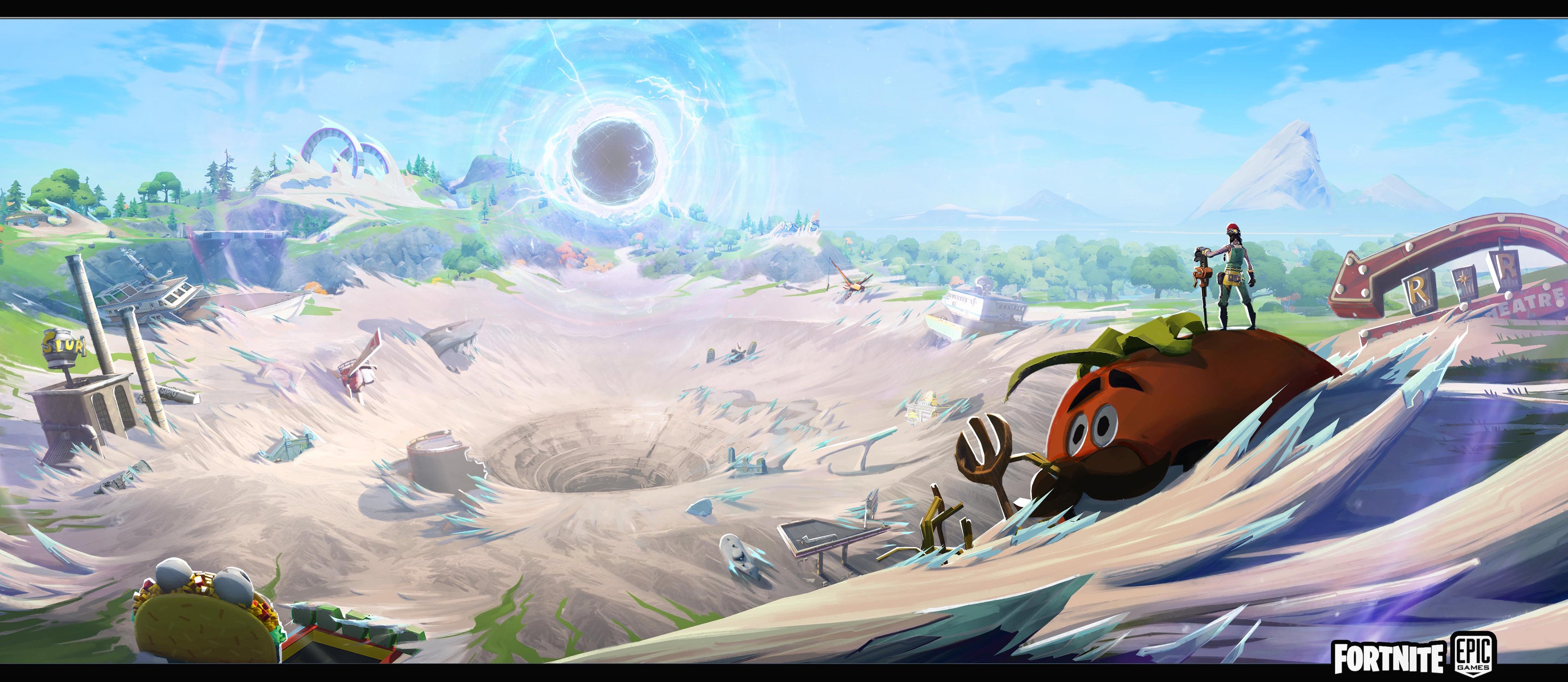 Why did Epic Games scrap the most breathtaking Fortnite concepts ever?
Aesthetically, it is hard to even compare the aforementioned concepts and the actual Fortnite POIs. A number of plausible reasons for Epic Games not finalizing them could be factors like map size, combat, storyline, and in-game mechanics.
While making a location, the developers not only have to make it look good but also place loot and other components that grant mobility. Moreover, adding heavily detailed locations could have increased the game size significantly.
Although it is impossible for loopers to ever witness the Chapter 2 concepts in reality, we can still get The Seven's high-tech labs. There's a closed bunker under The Foundation's state, and players now have sky-scraping expectations from whatever is hiding inside.
Juice WRLD's manger has repeatedly talked about collaborating with Fortnite, and the singer's concert might take place in Chapter 3.
Published
13 hours ago
on
June 15, 2022
Countless fans around the world want Fortnite to immortalize Juice WRLD with an in-game concert and emote. The singer's manager has indirectly confirmed the highly-anticipated crossover.
It wouldn't be an overstatement to say that Fortnite revolutionized gaming by hosting in-game concerts featuring the likes of Marshmello, Ariana Grande, and Travis Scott. These events have always been a massive success, and loopers are eagerly awaiting something equally spectacular in Chapter 3.
Here's why the next artist to perform in Fortnite could be none other than the late, great, Juice WRLD.
Juice WRLD's manager might have signed an NDA with Fortnite developer Epic Games
It all started with Juice WRLD's manager Lil Bibby opening up about a Fortnite collaboration a few months ago. He admitted to having a meeting with Epic Games about the same, and fans have had sky-scraping expectations ever since.
Thereafter, Lil Bibby retweeted a Fortnite Chapter 3 post but deleted it eventually. He also reacted to a fan-made post that talked about a Juice WRLD concert and skin in Epic Games' Battle Royale title.
Now, in a recent Instagram live, Juice WRLD's manager Pete claimed that he cannot be vocal about the singer's concert in Fortnite or he'll get in trouble.
"Fortnite, If I say anything about Fortnite, I'm gonna get in trouble. I can't say anything or I'm gonna get in trouble".
From the looks of it, Juice's manager has signed a non-disclosure agreement with Epic Games. This could be a hint that a Juice WRLD concert and cosmetics are in the works already and the developers do not want anyone to spoil the surprise.
Having said that, Lil Bibby could have signed a non-disclosure agreement even if Epic Games didn't agree to a crossover. The singer passed away in 2019, and many fans do not want his managers or game developers to commercialize his music.
Epic Games has always tried its best to stay out of controversy, and it could be the reason why Juice WRLD's manager isn't allowed to open up about his meeting.
What to expect from a Juice WRLD concert in Fortnite, if it happens
Live events have been Fortnite's area of expertise for a long time. Over the years, the quality of live events has improved significantly. Ariana Grande's Rift Tour and Chapter 2 Season 8's The End live event are perfect examples of the same.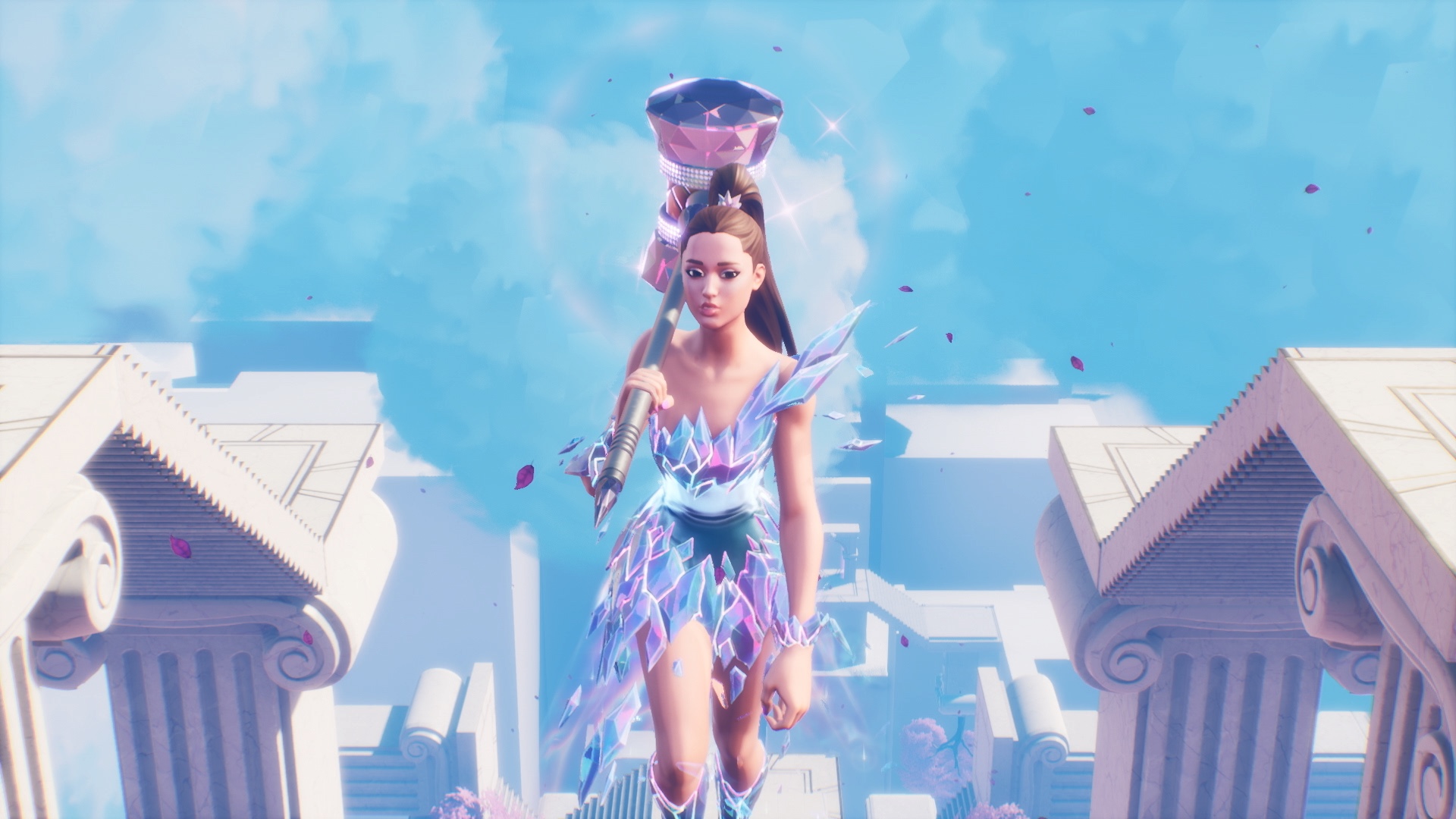 Juice WRLD has a ton of hit songs that can be a part of his Fortnite concert. The singer also has thousands of unreleased songs and fans can expect a teaser/segment for them as well.
Music concerts in Fortnite are usually followed by the singer's skin releasing in the Item Shop, but this might not be the case with Juice WRLD. Many of his supporters feel that Epic Games should only release an emote in the singer's memory and avoid releasing his outfit.
It is worth noting that this article is purely based on speculation, and readers must take it with a grain of salt.
Fortnite will host a No Sweat Summer event in Chapter 3 Season 3. It will arrive in the 21.10 update with new challenges and free rewards.
Published
16 hours ago
on
June 15, 2022
Following weeks of anticipation, Epic Games has finally confirmed the No Sweat Summer event in Fortnite Chapter 3 Season 3. Yet again, players will have to hop in Creative mode to get free cosmetics.
Fortnite Chapter 3 Season 3 has a "Vibin' theme and it makes perfect sense for Epic Games to include a summer event in it. It will not only help players gain XP but will also allow them to take some time off from the sweaty battle royale gameplay.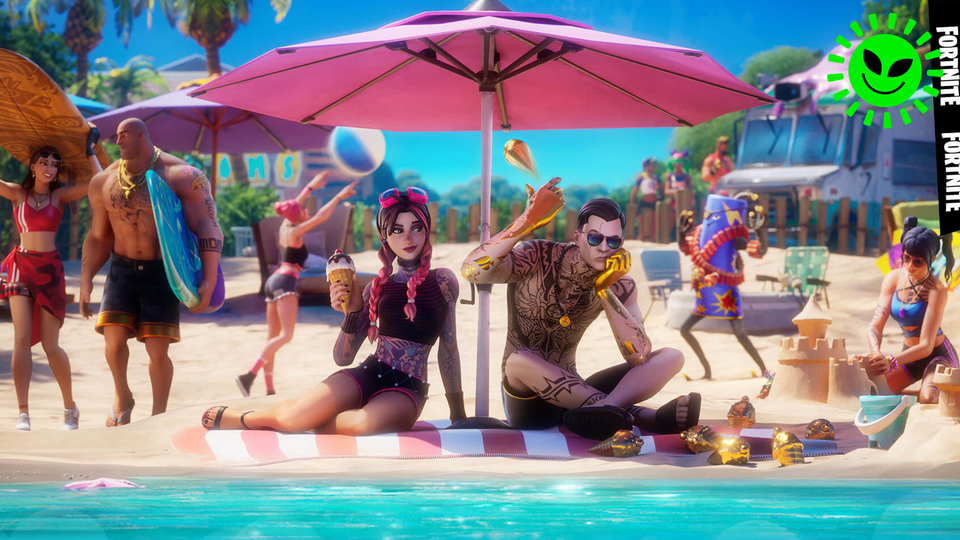 Here's everything we know about the upcoming No Sweat Summer event in Fortnite Chapter 3 Season 3.
Fortnite No Sweat Summer event 2022 will grant XP and free cosmetics
Fortnite v21.10 will be the first major update for Chapter 3 Season 3, and it is all set to release on June 21, 2022. However, this should not be treated as the start date for the summer event.
According to credible leaker iFireMonkey, the event will take place in Creative mode. Loopers will have the freedom to play on six unique maps and this time around, they will be different from the standard Red vs Blue maps. Instead, you can expect to take part in death runs and summer-themed LTMs.
Taking part in the Creative games will reward players with XP which has clearly become a luxury in Chapter 3 Season 3. Moreover, there will be free cosmetics but leakers haven't clarified if the rewards will include outfits or just emotes, sprays, and harvesting tools.
Fortnite calls out creators to make summer-themed LTMs and games
It is evident that Epic Games wants to make the 2022 summer event as community-driven as possible. Creators around the world can create summer-themed islands and submit them before July 5. Hence, it is safe to assume that the event will begin on July 5 or later.
The developers will feature the best summer-themed maps in Discover during No Sweat Summer, and the guidelines explicitly mention that the gameplay should not include combat. The focus should be on light-hearted game modes like death runs, prop hunts, racing, and social deduction, among others.
All Fortnite summer events so far have revolved around Creative which is why the community wanted more Battle Royale content in 2022. iFireMonkey has neither confirmed nor denied the inclusion of Battle Royale quests in No Sweat Summer.
All in all, we hope that the developers surprise players by bringing back the Surfboards and adding some summer-themed quests.
Following months of anticipation, Spider-Man's Mythic web shooters have returned as the Grappler Glove in Chapter 3 Season 3.
Published
2 days ago
on
June 14, 2022
Fortnite has finally released the Grapple Gloves in Fortnite Chapter 3 Season 3 and here's every location where players can find them.
The Fortnite community loved playing with Spider-Man's Mythic web-shooters in Chapter 3 Season 1. Mobility has always been a glaring issue in Epic Games' Battle Royale title, and items like the web-shooters significantly improved the situation.
The web-shooters have now returned as the Grapple Gloves, and there are ten locations where you can find them.
Grapple Glove locations in Fortnite Chapter 3 Season 3
It is worth noting that ten small huts scattered around the island have now turned into Grapple Glove pitstops. They have large signs and contain special loot boxes with Grapple Gloves.
Here's what a pitstop looks like in-game:
Loopers must know that the Grapple Glove won't be available as standard loot in chests. They will have to visit any of the following locations to get them:
North of Logjam Lumberyard near Seven Outpost 2.
Under Cuddle Team Leader's head in Rave Cave near the pool.
Southwest of Greasy Grove near Fungi Farm.
North of Synapse Station near Desolate Delta landmark.
North of Rocky Reels.
East of Tilted Towers near The Devourer landmark.
South of Sleepy Sound, next to the small red cabin.
Northeast of Condo Canyon near Shrouded Settlement (South of The Joneses).
Eastern edge of the map between Seven Outpost and Sunburned Shacks landmarks.
Northeast of Daily Bugle.
Here's an image in which each of the aforementioned locations has been marked:
Players won't struggle a lot to find the Grapple Glove pitstops because they have large signs and a vibrant color scheme that stands out. Having said that, it is safe to assume that the competition to get these gloves will be fierce.
Grapple Gloves arrive early in Fortnite Chapter 3 Season 3 Arena
According to leakers, you can now find Grapple Gloves in Arena and they'll arrive in other game modes shortly. In core modes like Battle Royale and Zero Build, they will have 30 shots while in Arena, a player can only swing 10 times with a single glove.
Spider-Man's mythic web-shooters were clearly broken in terms of providing mobility to players. They helped in quickly getting away from opponents, rotations, and surprising opponents.
From the looks of it, the new Grapple Gloves will serve a similar purpose in Fortnite Chapter 3 Season 3 and loopers can use this guide to get them in every game.