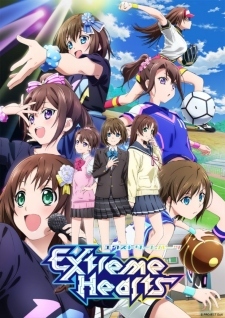 The official website of the Extreme Hearts original television anime series revealed on Friday two additional cast and character promotional videos. The anime premieres on July 10 at 1:30 a.m. on Tokyo MX and BS11.


Ari Ozawa (Back Arrow) and Ayaka Fukuhara (Manaria Friends) are joining the cast as Lise Kohinata and Yukino Tachibana, respectively.


Staff

Sub-character Design: Chinami Sekine (Sabikui Bisco animation director), Azusa Okazaki (Arte assistant animation director)

Design Assistance: Maki Hashimoto (Senryuu Shoujo character design), Satoko Miyachi (Madlax character design), Minami Hirahara (Tonikaku Kawaii key animation), Kisaki Nakamoto (Spy x Family 2nd key animation)

Prop Design: Gouichi Iwahata (Kenja no Deshi wo Nanoru Kenja), Noritaka Suzuki (Blue Period)

Art Design: Akihiro Hirasawa (Godzilla: S.P), Kazusuke Yoshihara (Basilisk: Ouka Ninpouchou), Shouji Tokiwa (Kuuchuu Buranko), Hiro Izumi (Yuusha, Yamemasu), Kenji Masuda (Medarot Damashii), TBS Act

Art Director: Tooru Koga (Rakudai Kishi no Cavalry)

Color Design: Keisuke Agatsuma

Director of Photography: Shintarou Nakamura (Mushikago no Cagaster), Mami Gotou (Idol Memories)

3DCG Director: Kouji Kawashima (Trinity Seven 3DCG)

Special Effects: Naomasa Fukuda (Birdie Wing: Golf Girls' Story)

Editing: Kazuhiko Seki (Pet)

Sound Director: Toshiki Kameyama (Fantasy Bishoujo Juniku Ojisan to)

Music Producer: Masatomo Oota (FirstCall) (Bishounen Tanteidan music)

Music: EFFY (FirstCall) (Musaigen no Phantom World)

Sound Production: Glovision

Studio: Seven Arcs


Miho Okazaki, who plays Saki Kodaka, is performing the opening theme "Infinite."


Junji Nishimura (ViVid Strike!) is helmng the anime and Masaki Tsuzuki (Mahou Shoujo Lyrical Nanoha) is penning the story. Issei Arakaki (Vlad Love) is credited as the character designer and chief animation director.


Character PV (Yukino Tachibana ver.)


Character PV (Lise Kohinata ver.)


Source: Ota☆Suke



Update June 17

The official website of the Extreme Hearts television anime announced on Friday five additional cast, who will be members of the anime's idol group "May-Bee."


Cast

Hazuki Sakurai: Rika Abe (Azur Lane)

Tomo Miyashiro: Saori Oonishi (Kawaii dake ja Nai Shikimori-san)

Yuriko Suemune: You Taichi (Princess Principal)

Chihiro Honda: Kaede Yuasa (Diabolik Lovers More,Blood)

Teena Merkies: Tomomi Mineuchi (Kobayashi-san Chi no Maid Dragon S)


Source: Official Site