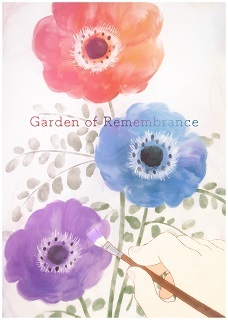 Avex Pictures opened an official website for Garden of Remembrance—the new anime movie by director Naoko Yamada (Koe no Katachi, Heike Monogatari)—on Thursday. The website also revealed the main staff and a teaser visual (pictured).


The movie originally screened at this year's Annecy International Animation Film Festival last month in the Work in Progress section. The movie is scheduled to premiere in 2023.


Yamada is directing the movie at animation studio Science SARU. Manga creator Etsuko Mizusawa (Moshimoshi, Terumi desu.) is credited for the original character designs. Singer-songwriter Aika Imaizumi, also known by her stage name Lovely Summer-chan, is composing the music.


Introduction

An untidy room. Empty beer tins, empty wine bottles, a half-empty glass of whisky…


A girl is getting up absent-mindedly and starts preparing herself. YOUR morning starts. Lazy and hard-to-wake-up YOU. The emoticon is ME watching over YOU. I play tricks on YOU, while YOU are playing the guitar and drinking. One day, in town, YOU walk past THE CHILDHOOD FRIEND who is buying an Anemone I liked, and remembering that I liked them, YOU rush out to buy them. THE CHILDHOOD FRIEND displays the Anemone with care.


One day, years after I died, YOU hear noise from the closet. Opened, YOU see MY garden right in front of YOU. Overflowing emotions of ME and YOU. When exiting from the room with memories, a picture of the Anemone that YOU painted is displayed in YOUR new room. (Souce: Annecy Film Festival)


Official site: https://gor-anemone.com/


Source: Press Release


Garden of Remembrance on MAL